Lately, I've been so busy, getting ready to wrap up my senior year. I chose my school. I really wanted to leave NYC and explore other cities, but I'm going to stay here. I don't think I'm going to regret it at all. People always say that when you leave NY and go to another city, you won't find anything that can match up to it. And I found that true when I went to Atlanta. So for now I guess its NYC baby!
I've also found my prom dress (still debating whether I should go lol), my dress for the senior trip dance and my graduation dress. But, I still have to prepare for my AP test coming up. But, still I feel that although there's all this craziness, I've always managed to find some time to take a breather, relax and listen to some music like. . . you know, some Rihanna. Her song Stay has been on repeat on many radio stations, maybe that was a sign that I should STAY in NY ;)
Rihanna is one of my favorite singers, but she's adding more to her resume than that. Maybe, you've heard that she's been making major moves in the fashion world with her clothing collection River Island, which she recently launched. She was even a part of Fashion Week. But, now she's decided to branch out into not only the music industry and fashion industry, but also the beauty industry.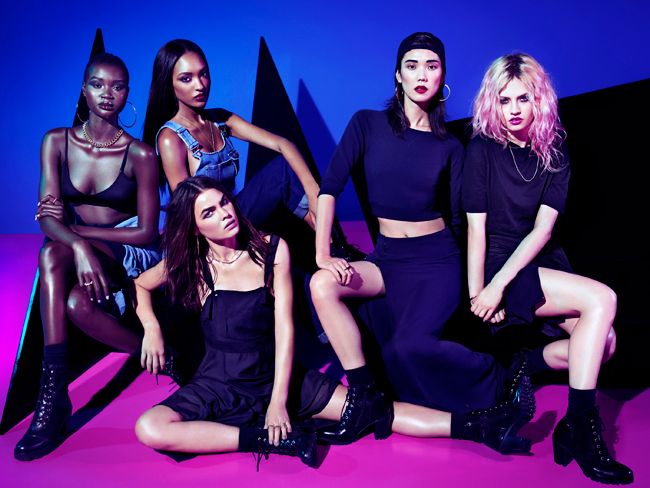 Rihanna's River Island collection
Rihanna has her own exclusive line of makeup for MAC Cosmetics! She posted this sneak peek of her new collection on Instagram:
I just adore the packaging. So cute!!
The collection is centered around the new shade of lipstick called "RiRi Woo," which is inspired by her favorite MAC lipstick, Ruby Woo (a deep red color).
"RiRi Hearts MAC" Collection will debuts today (May 4) as her "Diamonds" world tour ends in Brooklyn, NY. Woot, woot, right here in my hometown lol. NYC!
For those of you that go to the concert at the Barclay's Center today (May 4), there will be a pop-up shop dedicated to showcasing Rihanna's new line!
I need to get something from her collection. I love the packaging in itself. And the actual makeup would be perfect for when I decide to go to prom hmm...